| | |
| --- | --- |
| | > |
S. Silas, Risinghill Street, Pentonville, London N1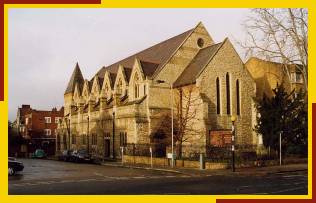 S. Silas, Risinghill Street, Pentonville, London N1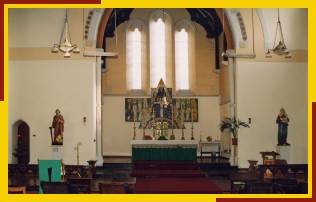 High Altar
| | |
| --- | --- |
| Reredos | Shrine of Our Lady of Walsingham |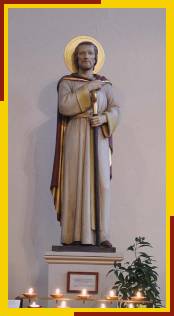 Statue of S. Silas
S. Silas, Ivydale Road, Nunhead, London SE15 3DP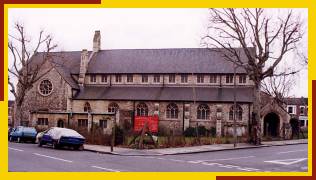 S Silas, Nunhead - now demolished
| | |
| --- | --- |
| High Altar | Nativity window |
This church was referred to the Council for the Care of Churches under the Pastoral Measure 1983 for a report assessing its 'historic interest and architectural quality' and was declared redundant. In the same district is S. Antony, Carden Road, London SE15 - this church is also redundant and due to be sold. S. Silas was badly damaged due to the rising water table under the church. There was a great deal of disruption to the floor. It was due to be demolished and a new church built on the site. The new church may include a dedication to S. Silas. The east window had a crucifixion scene with the four archangels; the original lower glass had been removed to make way for a dedication to those who died in the War. There did not appear to be any symbolism or statues of S. Silas in the church. The Lady Chapel window was a Nativity scene. There was a very elegant statue of Our Lady in the style of Martin Travers. The reredos had little to commend it.
The church of S. Silas was demolished during 2001 because of major structural problems. The church dedication has now been combined with S. Antony, Nunhead.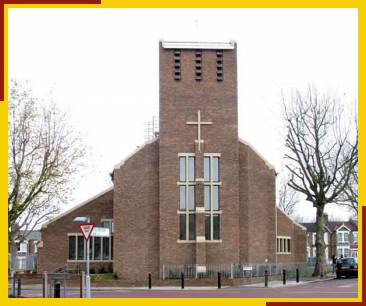 S. Antony & S. Silas, Ivydale Road, Nunhead, London SE15
For you information - the new St Antony with St Silas Church Building (and Community Centre) was completed in 2003, with the consecration service for the new church being held on Saturday 26th April 2003.
S. Silas, Preston New Road, Blackburn, Lancashire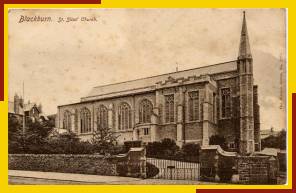 Before tower was built (postcard 1905)
| | |
| --- | --- |
| Church and tramlines | |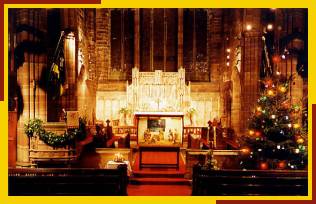 Photo of the chancel supplied by the Vicar, Revd. Brian Stevenson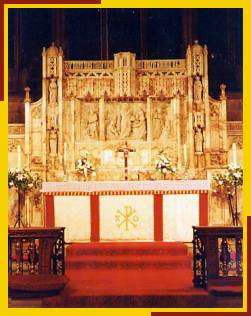 Photo of the reredos supplied by the Vicar, Revd. Brian Stevenson
| | |
| --- | --- |
| High Altar with reredos which depicts Christ feeding the 5000 | World War I Memorial |
| | |
| --- | --- |
| Heatley Memorial Screen | Heatley Memorial Screen detail |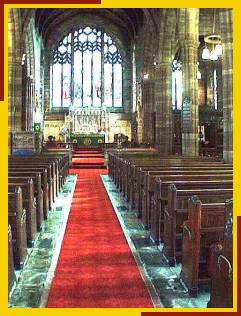 East end
S. Silas, Hesters Way Road, West Cheltenham, GL51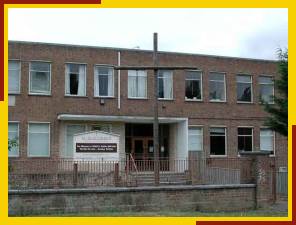 S. Silas, Hesters Way Road, West Cheltenham
This church is part of a West Cheltenham Team Ministry. Their website can be found at
http://www.westchelttm.org.uk/silas
The present church was originally an old office building for the electric company until approximately 1988. Prior to that, St Silas used two war-time Nissan huts (one for the church and one for the hall).
S. Silas, Byker, Northumberland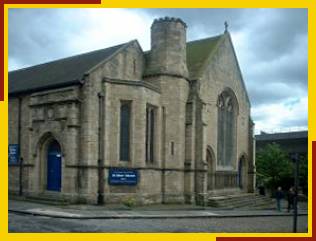 Photograph by Mike Donaldson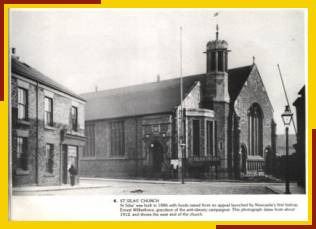 Postcard of S. Silas, Byker, taken 1912. Supplied by Mike Donaldson
S. Silas, Broomhall, Sheffield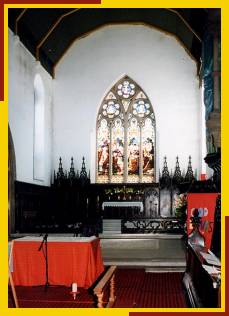 East end
| | |
| --- | --- |
| Angel at the tomb | Three Marys at the tomb |
This church is now closed and redundant.
S. Silas, Feeder Road, Bristol
Postcard of interior of unknown origin.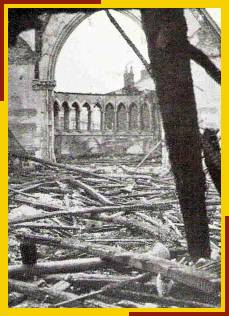 Bomb damage
The first church on this site was built in 1867–8 by Pope & Bindon, but demolished 1872 due to subsidence. A new church by J.C. Neale was built in 1873. This church was destroyed by bombing on 3rd January 1941 and was not rebuilt.
S. Silas, Toxteth, Liverpool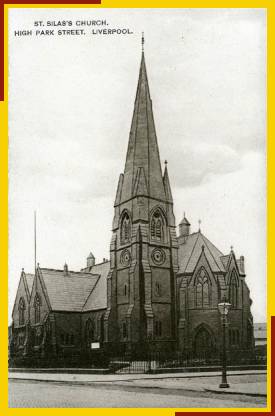 St Silas, High Park Street, Toxteth, Liverpool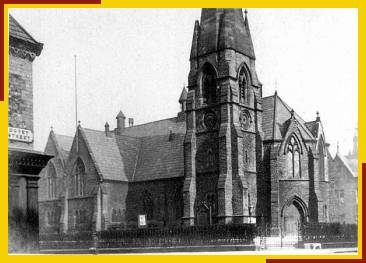 St Silas, High Park Street/St Silas Street, Toxteth, Liverpool
"S. Silas Church was situated in High Park Street, Toxteth Park, Liverpool, Lancashire (1850 - 1896). This church was erected during 1864, consecrated 1865 and in its churchmanship was low church evangelical, as indeed were most of the Anglican churches in Toxteth. Its (second?) vicar from 1873 until his death in 1908, Canon Herbert Woodward, formerly vicar of St. Clement's (1856/7 – 73), was one of the leading evangelical churchman of his day and was very much involved in the contemporary anti-Catholic and anti-Ritualist movements. S. Silas was, I think, an Orange Lodge Church; certainly large numbers of Orange Lodge members and supporters were included amongst the thousands of Protestants who attended Woodward's funeral. Woodward was one of the ministers who gave an address at the funeral service of John Kensit which was held at St Clement's in 1902.
Its organ was built by Gray & Davison.
St Silas Church, Toxteth, was damaged by enemy action on 19 October 1940 and was closed for a period of more than two years; it was reopened on 6 December 1942. It remained open until 1952 and was demolished in 1954. There was a school attached to the church – I can remember being sent as a boy to the school with a message or letter by the headmaster of my own primary school. Though the old St Silas parish now forms part of the Parish of S. Philemon and is the responsibility of the Toxteth Team Ministry, there is still a S. Silas Primary school, though the old Victorian buildings were replaced some years ago by modern building". (Information from Dr. David Pope).
Ringo Starr of the Beatles attended the Church of Engand school attached to this church.
Many thanks to Paul Christian for the use of the two photographs and his excellent research of the Toxteth Churches.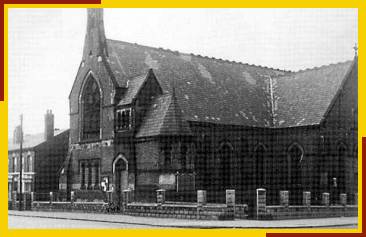 St Philemon with St Silas, Windsor Street, Toxteth, Liverpool
This church which was originally dedicated to St Philemon was situated between Windsor Street and its junction with Northumberland Street and Dorritt Street. It was consecrated on 13th July 1874. In 1958 the parishes of St Philemon and St Silas were amalgamated to form the parish of St Philemon-with-St Silas. This building was demolished to give way to housing.
S. Silas, Pembroke Place, Liverpool (1800 - 1850)
Wanted - Photographs of this Church
Architect was A.B. Clayton
This church was situated in the old Parish of Liverpool, on Pembroke Place, not very far from the City Centre - at a distance of no more than 10 - 15 minutes walk from Lime Street Station and St George's Hall. The first stone of this church was laid on 5 June 1840 and the building was consecrated in October1841. In April 1940 coinciding with the resignation of the then vicar, the Bishop of Liverpool closed the church temporarily as an emergency measure for the duration of the war. During the May 1941 blitz of Liverpool the church was badly damaged by enemy action and its remains were demolished in the following year. (Information from Dr. David Pope, 59 Ferndale Road, Liverpool L15 3JY - April 1999).
The Chapel of St. Silas, Bollingham, Herefordshire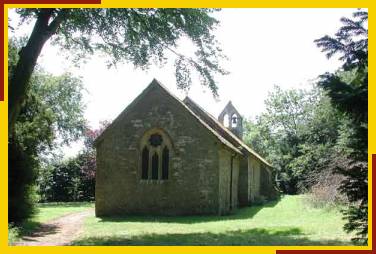 The Chapel of St. Silas, Bollingham
| | |
| --- | --- |
| South porch & bellcote on west gable | East end |
| | |
| --- | --- |
| Font | East window |
The Chapel of St. Silas, Bollingham
The building is a simple layout of nave and chancel with a south porch. There is a bellcote on the west gable.
Bollingham is mentioned in the Domesday Book as "Burdardestune". The medieval name was "Bolynghull". In 1863 the Chapel of St. Silas was described as: - "a primitive building of the 13th Century, if not older".
The Chapel has a late medieval roof over rubble stone walls and was substantially rebuilt in the 19th Century. There is an ancient corbel head on the south wall.
There are two stained glass windows. The one at the west end has some good coloured glass and is a memorial to the Whitcombe family - Richard, his wife Sarah and their only son, also Richard. They owned Bollingham House, which is next to the Chapel. The house came into their possession around 1780 together with a large amount of land.
The other windows in the Chapel are clear glass with coloured borders.
The nave is stone flagged and under rush matting are ornate iron grilles. The chancel and sanctuary are tiled with encaustic tiles. The wooden pews are set on a boarded dais. The altar table is a hefty gothic style with simple paneled reredos whilst the communion rail is oak and cast iron.
The priest's stall faces a chamber organ, no longer used. The half-octagonal pulpit is stone. The font seems large for the building and is a stone octagonal shape supported on columns and set on a plinth.
Inside the door is a stone slab dedicated to Sarah Harper nee Higgins of 'Spon' (Spond) she died in 1711. Incidentally, there is a burial recorded in the Eardisley Parish Register of 1650 as, "Ann Higgins in the chapel of Bollingham buried". The entry doesn't specify where she is buried and there do not appear to be any gravestones in the churchyard.
The memorial plaque in the chancel was dated 1939 to the memory of Eleanor Martha Williams (who also lived at Bollingham House).
The brass plaque opposite the door was dedicated to Cecil Williams in 1992, in gratitude for his work here, as church warden for over 40 years.
Information from "The History of Bollingham House and the Chapel of St. Silas" compiled by L.W.R. Potter (1993-96).
"This small church was rebuilt in Victorian times; there is really nothing of interest except for the roof, which is original – the RCNM said 14th or 15th century – and rather interesting. On display are the principal and common rafters, the purlins, the wall-plates, tie-beams, collar-beams, king-posts and foiled wind-braces at the sides". (John Leonard - Churches of Herefordshire & their Treasures, publ. 2000 by Logaston Press, page 196).
St. Silas, Hunslet, Leeds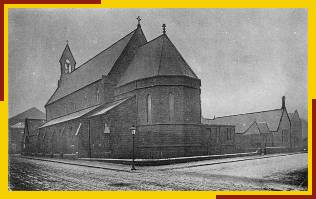 S Silas, Hunslet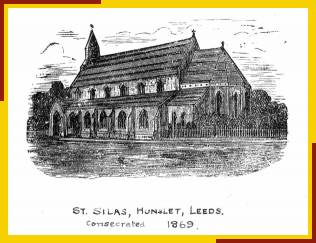 Artists impression of S Silas, Hunslet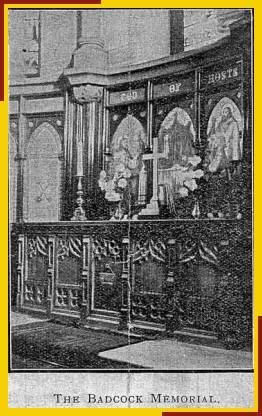 The Badcock Memorial
The church of St Silas was erected by the Leeds Church Extension Society, at a cost of £5000, exclusive of the site. The foundation stone was laid in July 1868. It was consecrated the following year on 25th November 1869 by the Bishop of Ripon, Dr. Bickersteth. A luncheon in Wilkinson's Works followed the Consecration, and in the evening the Preacher was the Vicar of Leeds, Canon Woodford. It was situated in Goodman Street and built in the Early English style, and consisted of a pentagonal chancel, with an apsidal vestry on the north, clerestoried nave of five bays. aisles, north porch, and an open gabled belfry at the west end, 94 feet in height. The interior was rib-groined in wood, the ribs springing from banded shafts rising from a string course. It was designed to seat a congregation of 750 worshippers.
The Architect was George Corson (1829 - 1910) of South Parade, Leeds. It became redundant in 1952 and was demolished in 1956.

The first vicar was the Rev. Richard Waters until he left for Rookhope, Durham in 1873. He was succeeded by the Rev AC Downer, but left in 1878 for the parish of Ilkley. The Rev AJ Binnie succeeded but only stayed about a year and left in November 1879.
The Rev. Canon Howard Jaggar Hammerton was Priest-in-charge of St Silas Church, Hunslet, 1947-53.
The following report is a transcript from The Architect dated Dec. 4, 1869 page 280.
Last week the new church of St Silas, Hunslet Leeds, was formally consecrated. The new church consists of a nave, aisles, and chancel, with organ chamber on the south, and vestry on the north side of the chancel. There are also at the west end two porches, entering from the north and south respectively. The nave is divided from the aisles by an arcade of five arches on each side, supported by pillars, alternatively round and quatrefoil on plan, with moulded bases and caps, the former being visible above the seats, not hid by them is usual. The space that would otherwise have formed a sixth bay to the west end, is occupied by doors from the north and south porches. The chancel is finished as an apse of five sides, with a single-light lancet in each, and stone shafts in the angles, with bases corbelled out from the wall, bands and carved caps supporting the ribs of the roof. These ribs form pointed arches spanning the chancel, and meeting in a carved boss at the centre of the apse. The chancel arch, between the nave and the chancel, springs from the caps of pillars corbelled out from the wall on each side. The caps are carved with natural foliage, the fern being used on one side and the maple on the other. The corbels are formed as shields, bordered with foliage. The principal dimensions are as follows: Nave 92 feet by 29 feet 6 inches between bases of pillars, and 62 feet high to ridge; aisles, each 79 feet by 11 feet 6 inches from wall to pillar, and 21 feet high to ridge; chancel 33 feet 4 inches by 21 feet, and 53 feet high to ridge; organ chamber, 14 feet 6 inches by 12 feet; vestry 21 feet by 16 feet; porches, each 12 feet by 10 feet; belfry, 90 feet high to the top of the cross. The contractors for the various works are as follows: Messrs. Langley and Sons, for mason work and joiner work; Messrs. Watson and Wormald, slaters; Messrs. Dawson and Son, plumbers (for whom Mr. T. Wilson did the glazing in lead); Mr Miller, plasterer; Messrs. Galloway and Son, painters; Messrs. Heaps and Robinson, for heating apparatus and smith work; Messrs. Mawer and Ingle, carving and font; Mr. Kidney, lightening conductor – all of them being Leeds tradesmen. The gas fittings, lock, hinges, and cross were supplied by Charles Smith and Sons, of Deritend, Bridge Works, Birmingham; and the tiles were laid by Charles and Taylor, of Infirmary Street, Leeds. The chancel floor within the rail, and the broad footway from the nave up to the rail, are covered with a carpet designed by the architect, and made by Messrs. Wilkinson and Co., of the Carpet Works, Hunslet, who have given it to the church. The architect is Mr. Corson , of Ledds. The organ is being built by Messrs. Radcliffe and Sagar.
Demolition plans for three Leeds churches including St Silas are reported in the Yorkshire Post dated 6 October 1954, page 6.
St. Paul with Christ Church and St. Silas (1850 - 1896) Sculcoates, Kingston upon Hull
Statue of S. Silas from the redundant church of Kingston upon Hull now at S. Silas Church, London N1. (S. Silas Church destroyed 1941.
Brown's Guide to Hull (Sculcoates) 1891 says:-
ST. SILAS CHURCH, erected in 1870-1. It is in the Gothic style of the twelfth century and is of brick, faced with red stocks, and having blue Staffordshire brick bands and tracery. It consists of an apsidal chancel, nave, with clerestory aisles, vestry, and organ chamber. The columns of the arcades separating the nave from the aisles are of Bath stone, and there is a large rose window over the west entrance. The Windows are glazed with tinted cathedral glass. The pulpit is of oak on a moulded Bath stone base. All the interior woodwork is stained and varnished. The floors are laid with Staffordshire tiles, and the chancel with encaustic tiles. There is sitting accommodation for 660 persons.
St Silas, Barmston Street, Hull. It was consecrated and a district given to it out St Pauls parish in 1871. It closed in 1967, was damaged by fire in 1968 and subsequently demolished. The site is now occupied by industry.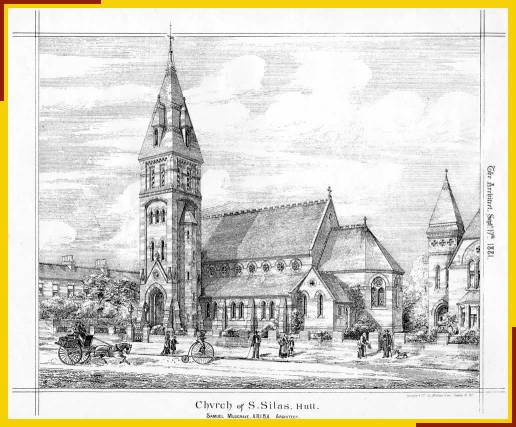 St Silas, Barmston Street, Hull - demolished 1969
St Silas is described as being designed in a simple style of Gothic, and executed in best quality plain red stock brick, stone being used very sparingly. The seating throughout is in the best quality redwood Baltic fir and the exposed woodwork is lightly stained and varnished. Their cost precluding any attempt at ornamentation. The tower is erected to the top of the gable over the entrance only, the remainder being left down until the funds are raised
The architect is Mr Samuel Musgrave, ARIBA, of Trinity House Lane, Hull.
Information gleaned from "The Architect" Oct 25, 1879 page 241 & Sept 17, 1881 page 193.
To obtain a fuller history of St Silas, Hull contact the Anglo-Catholic History Society, 24 Cloudesley Square, London N1 OHN for the booklet "Over the Top" The Story of St Silas, Hull by Michael Rear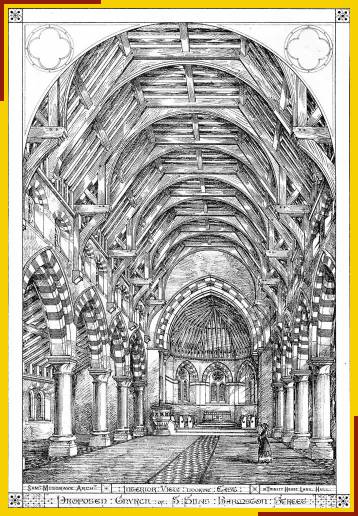 St Silas, Barmston Street, Hull - demolished 1969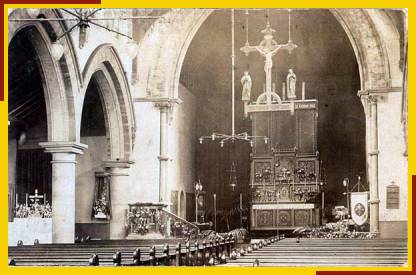 St Silas, Barmston Street, Hull - demolished 1969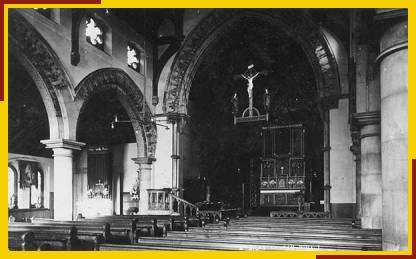 St Silas, Barmston Street, Hull - demolished 1969
Other references to S. Silas as dedication
Research by Fr. Frank Hillier in the 1940 - 60's found that according to Crockford's Clerical Directory there are churches dedicated to St. Silas in the following places: - Birmingham, Blackburn, Bristol (destroyed by air-raids in 1941). Hull, Leeds, Liverpool, London (Pentonville, Nunhead and Kentish Town), Newcastle, Manchester, Sheffield, Glasgow, Belfast (destroyed by air-raids in 1941); Australia - Melbourne, North Geelong, Breadalbane, Crystal Springs, Waterloo; New Zealand - Papanui; South Africa - Maritzburg; West Indies - Barbados, Windward Islands (St. Silvan, Stubbs).
St Silas, Balwyn North, Melbourne, Australia.
St Silas Anglican Church, Balwyn North, (Camberwell Deanery), (Diocese of Melbourne) Australia.
This church was begun in 1942 in temporary premises but the present church was opened in 1963. It was consecrated on 15th September 1985.
In the early 1960's, Louis Williams firm designed the church of St Silas, in North Balwyn, a prosperous Eastern Suburb of Melbourne. He abandoned his usual adapted gothic for a more angular, but moderate, modern style, while retaining a traditional Anglican plan with a side chapel. The church is not regarded as a major work of this architect. It is not an Anglo-Catholic parish.
Many thanks to the Very Rev. Mgr. Peter J. Elliott, Episcopal Vicar for Religious Education, Catholic Archdiocese of Melbourne, and Parish Priest of St Mary the Immaculate Conception, East Malvern for the information supplied about this church.
For a more detail information about this Parish please Click Here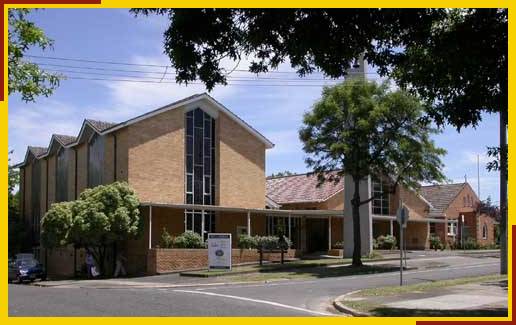 St Silas, Balwyn North, Melbourne. Photograph by kind permission of Keith Head.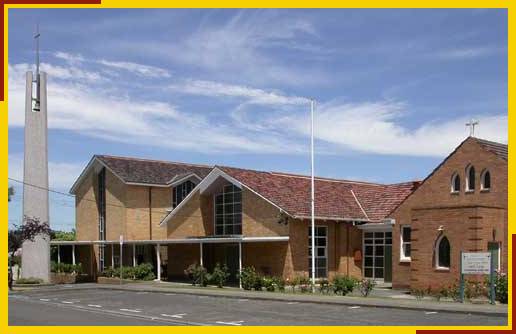 St Silas, Balwyn North, Melbourne. Photograph by kind permission of Keith Head.
| | |
| --- | --- |
| | To the Greater Glory of God and in Honour of St. Silas. This stone was laid by the Mos |
St Silas, Albert Park, Melbourne, Australia
| | |
| --- | --- |
| | S. Silas, Albert Park Photograph by Darko Pozar-Burgar |
St Silas, Madden Street, Albert Park, (Port Phillip Deanery), Victoria
This church is of similar proportions to Kentish Town, was built in 1927, but never completed according to plans because of the Depression. It is a major work by Louis Williams, an Australian architect who designed many churches, mainly Anglican, according to a modern gothic style of his own. Louis worked from the 'Twenties to the 'Sixties. St Silas is a very lofty church, built in clinker brick (dark red with double fired for its deep blue effect). Its lofty apse is visible from the Grand Prix Circuit around the Albert Park Lake. The incomplete church was drastically remodelled and finished in a simplified form by the Rev'd Leslie Llewelyn Elliott, vicar from 1957-1970, and President of the Australian Church Union. In 1961 he built a parish hall within the church structure, converting it into a two-storey building, access to the church above is gained by stairs. The sanctuary on the new level was re-ordered for "Western Use" liturgy at that time. The church remains within the Anglo Catholic tradition, now re-ordered in a post-Vatican II style. Its existing glass and fittings have been enriched by a recent refurbishment with the inclusion of glass, images etc. from the smaller church of St Anselm in the now suppressed adjoining parish of Middle Park. With the real estate boom and gentrification, Albert Park is now a stronger parish.
Items from S. Anselm's include a processional cross, a crucifix depicting Christ as a priest and a statue of S. Anselm.
Two windows in S. Silas from S. Anselm were designed by Brooks Robinson and Co., Melbourne.
The Ascension, 1922-3.
Designed to commemorate Cedric Howell, DSO, MC, DFC, a distinguished airman whose plane crashed near Corfu on his return trip to Australia in 1919, the choice of scriptural subject may have been intended as an allusion to Howell himself, regarded as one whose life ended with a final ascent; the understanding of the serviceman as a kind of saint, commonly verbalised but less frequently visualised may also have played a role. Correspondences between scriptural subject matter and those memorialised appears to have been a feature of some 19th century stained glass.
The Holy Women at the Tomb, 1925.
Unveiled by a former army chaplain, who used the occasion to refer to 'the patient endurance of hardship and the willing obedience to the call of self-sacrifice' shown by those who served, the choice of the women visiting the tomb on Easter Day as a subject may have partly been a veiled or unconscious comment on those women left bereaved by World War I.
In addition there is a 1979 window with an almost kitsch treatment of St Francis in the manner of a 1920s Brooks Robinson window showing St Francis with a rosella on his shoulder and a kangaroo looking up in wonder from in front of him.Very Rev. Mgr Peter J.
Many thanks to the Very Rev. Mgr. Peter J. Elliott, Episcopal Vicar for Religious Education, Catholic Archdiocese of Melbourne, and Parish Priest of St Mary the Immaculate Conception, East Malvern for the detailed information supplied about this church.
St Silas, Geelong North, Victoria, Australia
It is reported in the St Silas Bi-monthly Paper dated June-September 1927 that Fr Whittingham received a letter from the Revd C.W. Woolley who was Vicar of St. Silas, North Geelong, Victoria, Australia, February 16th 1927 which said:-
Dear Father,
The name of your Church appeared in the Church Times of January 7th so I am writing to ask if you would kindly tell me when the feast of St Silas takes place. The Vicar of another St Silas in this diocese (Melbourne) has been unable to find any information, and we are both anxious to know. Both of us have tried to find out but without result so far. We would be extremely grateful if you could help us. This Parish is an industrial one, most of our people work in woolen mills and in the Ford works.
Thanking you in anticipation.
Yours Faithfully,
C.W. Woolley
The St Silas church in Geelong North, Australia closed in about 1995.
It was a wooden weatherboard building like many of its era in Australia. There was nothing really distinctive about it. North Geelong was and still is an industrial area to the west of Melbourne, Victoria, Australia. I believe that the building is still there but it has been converted into a private residence.
St Silas, Gembrook, Victoria, Australia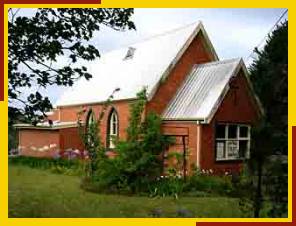 St Silas, Gembrook
| | |
| --- | --- |
| Font - St Silas, Gembrook | Chancel - St Silas, Gembrook |
Gembrook is situated about 54 km east of Melbourne, Victoria, Australia. It was the terminus for a narrow gauge railway from Belgrave and is now the "Puffing Billy" scenic railway. In 1873 settlers arrived in Gembrook and the first church was built for both and Anglican and a Presybterian congregation. In 1905 a second church was built and dedicated to St Silas. This church was a weatherboard construction but was clad in brick sometime in the 1960's.
The church was put up for sale and bought privately in 1994 so that this historic building would not be demolished, and also so that services could still be offered.
This is the only privately owned functioning Anglican Church in Australia. Services are held regularly and a amateur choir if being formed.
For a more detail information about this Parish please Click Here
St. Silas' Anglican Church, English Harbour,
Trinity Bay, Newfoundland
A school chapel or small church existed there from c.1800 and a new Church of England Church (St. Silas's) was completed in 1829. In 1826 a Wesleyan missionary visited the community and from this time onward the population was almost evenly divided between Church of England members and Wesleyans. The first school was opened by the Colonial Continental Church Society in 1833 and the first teacher was Henry Sheppard, who received a salary of £15 a year. In 1877 a temperance society called the Total Abstinence Mutual Improvement Society was formed; at one time it had a membership of 150 but it was dissolved in 1967.

In the Vestry Meeting minutes it appears that in 1900 the "old" church of St Silas was replaced in 1901 by "new" church of All Saints.
This church is in the Diocese of Okigwe-South.
If anyone has any information about it please contact me john@saintsilas.org.uk
I have also found a reference to a St. Silas Church, Old Umuahia in the Diocese of Lagos.
UMUAHIA ARCHDEACONRY Archdeacon: Ven. Dick C. Ahamba St Silas' Church, Old Umuahia.
PARISH NAME ADDRESS Priest: Rev. Cornelius Nwagwu St Silas' Church, Old Umuahia
St Silas, Crystal Brook, South Australia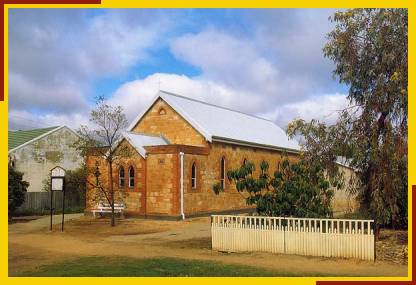 This photograph was taken by Robin Page and appears on the Anglican Church Calendar of Australian Churches for November 1998.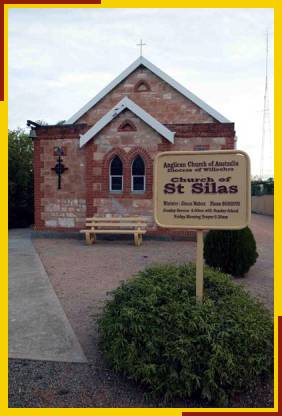 St Silas, Crystal Brook
| | |
| --- | --- |
| East end | East window |
With grateful thanks to the Revd. Simon Waters for the photographs.
Crystal Brook is a small country town about 200k north of Adelaide, in the rural diocese of Willochra.
S. Silas, Crystal Brook, was designed by William K. Mallyon, a Port Pirie Bank Manager, who between 1881 and 1912 in his spare time designed nearly thirty Anglican churches in the rural areas of South Australia. Most of them are simple rectangular buildings of local stone; several are quite impressive. The Crystal Brook church is very basic, but is the earliest building surviving as a 'live church' designed by Mallyon.
If anyone has any information about it please contact me john@saintsilas.org.uk
The sketch of the church was from M.E. Fenton's book W.K. Mallyon, 1850 - 1933: A Sketchbook of Early Church Architecture in the Mid North of Australia.
The original church was built in 1885 at a cost of £375. It was dedicated by GW Kennion. An extension was added to the front in 1911 to provide additional nave room and a vestry.
Sketch copies from old photograph
| | |
| --- | --- |
| Sketch of east end of church | Sketch of ground plan including extension. |
St. Silas, Hants County, Nova Scotia, Canada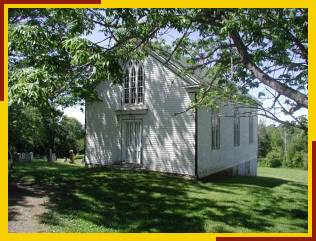 St Silas Church, Nova Scotia
St Silas, Waterloo, South Sydney
This church is no longer licensed, but was situated in Waterloo which was in the Parish of Redfern. Built in the 1860s church in an old working-class inner industrial suburb south of the city. The church was licensed on 10th September 1868, consecrated on 11th December 1887, and was closed in 1977.
The photograph of the church has very generously been made available from the archives of Government Printing Office Collection State Library of New South Wales.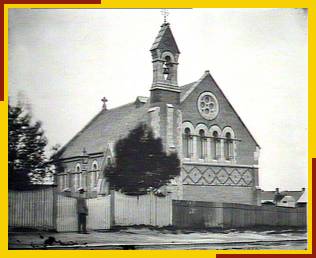 St Silas, Waterloo, South Sydney
St Silas, Redwood, Christchurch, New Zealand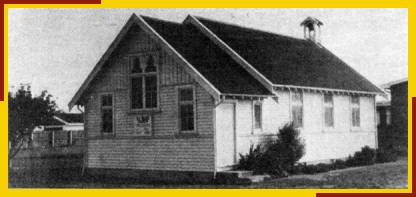 St Silas Mission Church - Built 1925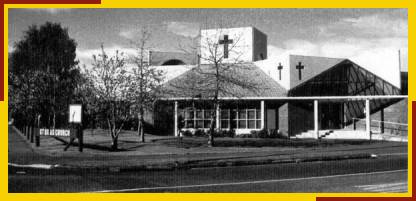 St Silas Church - Dedicated in 1990
St Silas church in a suburb formerly called Styx, now Redwood, in the parish of Belfast, in a northwestern suburb of Christchurch.
Address:- 237 Main North Road, Redwood, Christchurch
There has been a church of St Silas on this site since 1925, but the current St Silas was dedicated on 25 February 1990. The church began as a mission hall with some American nuns starting a sunday school here.
For additional information about this Parish Click Here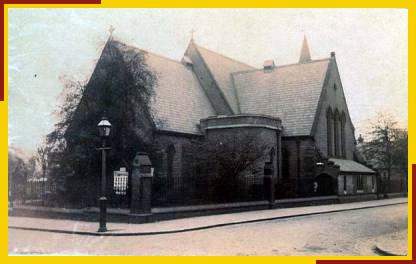 St Silas, St Silas Square, Church Street, Lozells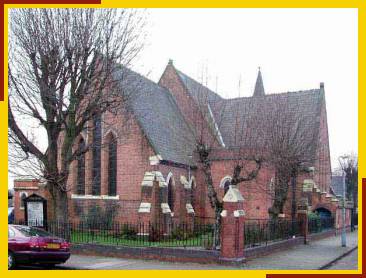 St Silas, St Silas Square, Church Street, Lozells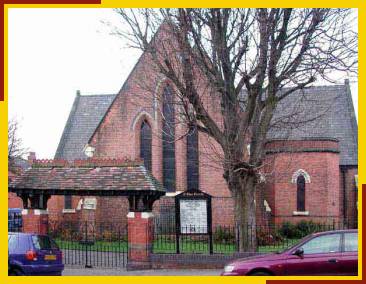 St Silas, St Silas Square, Church Street, Lozells
St Silas (also knows as Handsworth)
Located in Church Street, B19 1QW. It is brick, Victorian, the old Protestant 'Black Gown' church of northern Birmingham, and had absorbed several other churches which had closed and been joined to it. The church was sold in the early 1980's. It was viable and continued to meet in its former school building. A large bequest came through St. Paul's, and they sold both buildings and built a new church nearby.
St Silas Lozells was a cruciform church designed by J. W. Fiddian and comprising chancel, nave, and transepts, was built of brick in the Gothic style and was consecrated in 1854. A parish was assigned out of St. Peter and St. Paul's, Aston, in 1854; parts of it were taken to form the parish of St. Paul, Lozells (1881), and part of the parish of St. Mary, Aston Brook (1864). The patronage of the living, a perpetual curacy in 1854 and a vicarage from 1881, was vested in the Revd. D. N. Walton; in 1868 his executors were named as patrons, and in 1869 the Aston Trustees, who were the patrons in 1960. The schoolroom in Park Lane was licensed for public worship from 1861 to 1891; St. Silas's mission room, Nursery Rd., from 1908 to 1926.
Albert William Ketèlbey (1875-1959) was born in Alma Street, Aston on 9 August, 1875, the son of a teacher at the Vittoria School of Art. In his youth he was head chorister at St Silas's Church, Lozells, and at the age of 11 he composed a Sonata for Pianoforte which he played not long afterwards to an admiring Edward Elgar. He is best known for his "In a Monastery Garden", "In a Chinese Temple Garden", and "In a Persian Market".
St Paul & St Silas, Lozells, Birmingham
St Paul & St Silas Church Centre is ituated at 80 Lozells Road, Birmingham, B19 2TD (corner of Berners Street) in the Deanery of Handsworth.
The church was built in 1985 to a design by Robert Tolley of S.T. Walker & Partners, replacing one consecrated in 1854.
The building is of brick with roof slopes covered in bold roll concrete tiles, and has a large feature window to the North, of timber construction with exterior cladding of steel sheet. There is no ramped access, but access to the back door of the church is on a level.
It was licenced for worship on 28-May-1986, and is a Parish Centre for Worship. The Bishop made it known informally c.1994 that he desired to bring this building under Faculty jurisdiction, but by Nov-2004 a formal Order to this end had not been issued [as would be needed since licensed before Feb-1993, though not if done within deed of licensing]. [At Jan -03 LA Archive Department held plans XMS891/99].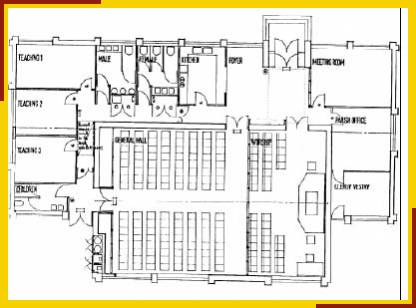 Plan of St Paul & St Silas, Lozells, Birmingham
St Silas, Ardwick, Manchester
| | |
| --- | --- |
| St Silas, Ashton Old Road, Ardwick, Manchester | St Silas, Ashton Old Road, Ardwick, Manchester |
This church was opened in 1842 and closed in 1954. It was situated in Ashton Old Road, Ardwick, Manchester.
St Jerome with St Silas, Ardwick, Manchester
| | |
| --- | --- |
| St Jerome with St Silas, Ardwick, Manchester | St Jerome with St Silas, Ardwick, Manchester |
This church is situated in Baden Street, Ardwick, Manchester.
Holy Trinity & St Silas with Immanuel Ardoyne, Belfast
The original St. Silas' church was near the City Centre and was badly bombed during World War 2. It was rebuilt further out of the city and has now been closed due to population changes and much civil unrest in the area. The Parish of Ardoyne was then amalgamated with Holy Trinity and St. Silas.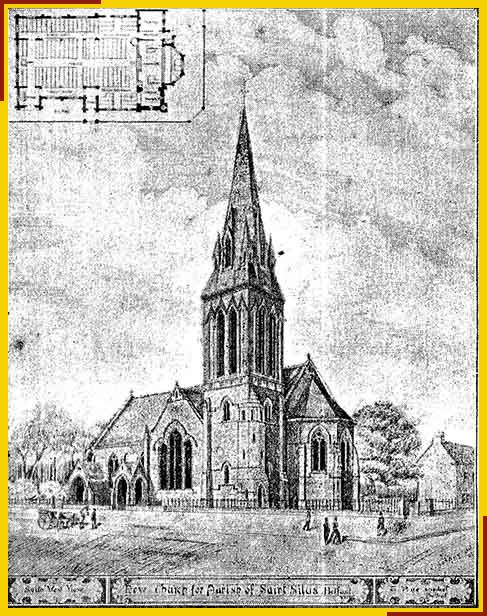 St Silas Parish Church, Belfast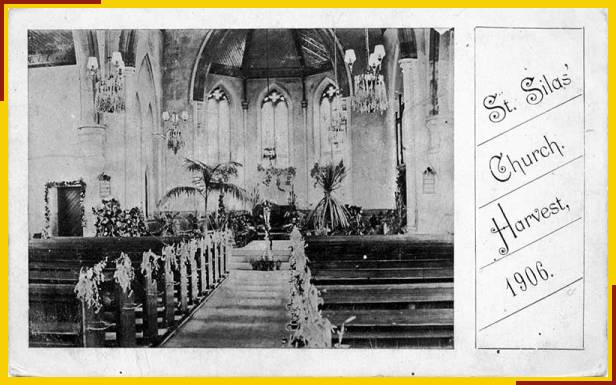 St Silas Parish Church, Belfast
The first church in Belfast dedicated to St Silas was carved out of the Parishes of St James' and St Mary's, to meet the needs of this rapidly expanding district on the Oldpark Road. The opening services in connection with the new parochial district were held in the Mission Hall in Printworks Terrace on 4th February 1899. The Rev. J. W. Cooke, formerly curate of St James', who had been working in the district for some time, became the first incumbent. Services were held in the Mission Hall until the church was built and opened in 1901.
The Rev. F. W. W. Warren was incumbent from 1908 until the church was completely destroyed during World War 2 in the air raids of 1941.
The second church dedicated to St Silas was rebuilt on the Cliftonville Road, and consecrated on 31st May 1958 by the Rt. Rev. R.C H. ElIiott, Bishop of Connor. This church was situated further out of the city but has now been closed due to population changes and much civil unrest in the area. The Parish of Ardoyne was then amalgamated with Holy Trinity and St. Silas.
The third church with the combined dedication of Holy Trinity & St Silas with Immanuel was originally know as Holy Trinity Church and is situated in Trinity Street.
It was consecrated on 17th January 1842.
Additional information and photographs supplied by Jim Young, Belfast
The Parish of St Silas Belfast
St Silas' Parish was created in 1902 to serve the Anglican people of the area in north Belfast which lay between the Cliftonville and Old Park roads. This was a high density working class area. The parish church was destroyed by enemy bombs in 1941. The nearby church hall served as the church from them until 1958 when the new St Silas church was dedicated by the Bishop of Connor. This new church was located in another area of the parish due to the population movements between 1941 and 1954. The church served members of the Church of Ireland in the area until it finally had to close in 1996. From the late 1960's onwards Northern Ireland had a period of what is commonly called "The Troubles". One feature of this period was forced and unforced movement of people throughout the city. St Silas' saw many people decide to move to further out suburbs in search of more modern housing and also to escape some of the strife which was common within the parish area. This movement saw the parishioners gradually dwindle and with the demographic changes on the religious basis altering the make up of the area it was no longer viable to maintain the church. The church still stands today as a building and is used no longer for religious services but as a community help centre.
After the closure of the post war church of St Silas it was decided that the parish boundaries should be included with our neighbouring Church of Ireland parish of Holy Trinity. The name St Silas is still therefore used and the new title for the combined parishes is Holy Trinity and St Silas with Immanuel. Immanuel is another neighbouring parish served by the Rector of the three grouped parishes. In May 2008 the present rector of the three parishes was appointed to the position of Bishop of Limerick. A former member of St Silas is the present Bishop of Southwell in Nottinghamshire. Prior to that appointment the Revd George Cassidy was the Archdeacon of London and the Senior Canon in St Pauls Cathedral. Canon John Dinnen a recently retired rector of Hillsborough Parish Church in Co Down Northern Ireland was also a former member of the parish.
Holy Trinity and St Silas with Immanuel
The original Holy Trinity Church of Ireland parish was consecrated by Bishop Mant on Tuesday 17th January 1843. The church was built in the Gothic style and was noted for its graceful spire. Inside the most noticeable feature was the three-decker pulpit. Belfast was a city of 20,000 people in 1843. Holy Trinity was to serve its parishioners for 98 years. On Tuesday 15th April 1941 the death blow was struck by German bombs when the church was destroyed. This was the same fate as St Silas and many others especially in the north side of the city.
After the war it was decided not to rebuild the new Holy Trinity on its original site as there was no longer the population to sustain it. The area had changed radically and was now more industrial than residential. However the local Bishop wrote at the time, "I think the name and the traditions of the church should be preserved in other circumstances. There are suburbs growing around the city… to one of these the church should be moved. In a new environment its splendid history could be repeated."
The new area was to be within the Ballysillan area of north Belfast, a fast expanding residential area. On 1st May 1954 the foundation stone of the new Holy Trinity was laid and on 26th May 1956 the new church was consecrated. In 1996 with the closure of St Silas it was decided to join the two into one.
The new church is a modern Gothic building based on the late English Medieval style, with particular reference to the Perpendicular period. The nave is unusually lofty, compared with modern churches. The tower rises 80 feet and the belfry houses the original church bells.
The third parish in the title is Immanuel Parish Church which serves the Ardoyne district of north Belfast. It was created in 1940 to serve the recently built new residential homes of the area. A hall served as church and hall until 1963 when the new church was built. That church still serves the area and the present rector of Hoily Trinity and St Silas is also the rector of Immanuel.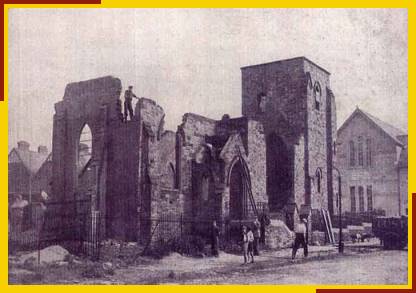 St Silas, Cliftonville Road 1902 - bombed 1941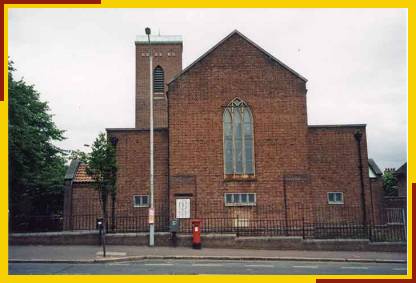 St Silas 1958 - closed 1996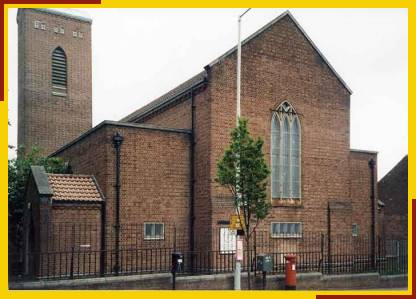 St Silas 1958 - closed 1996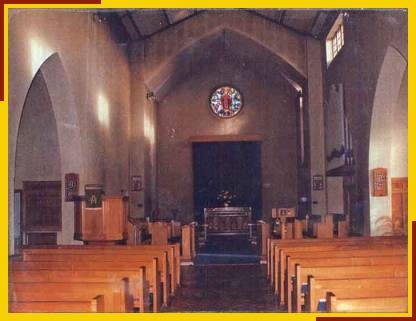 St Silas 1958 - closed 1996
| | |
| --- | --- |
| St Silas 1958 - closed 1996 | |
Rectors and Assistants during 1901 - 1996
Rev T.W. Cooke 1901 - 1908
Rev F.W.W. Warren 1908 - 1941
Rev T.J. Gray 1941 - 1952
Rev St.G.C.H. Lundy 1952 - 1974
Rev N.L. White White 1962 - 1974
Archdeacon J.O.Rollyston with Archdeacon Giff and Rev R. Maxwell 1974 - 1996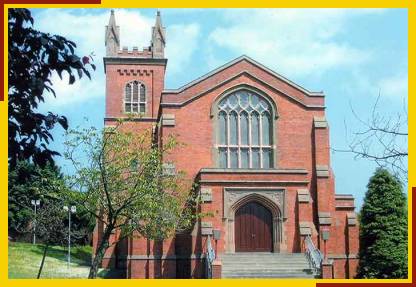 Holy Trinity & St Silas with Immanuel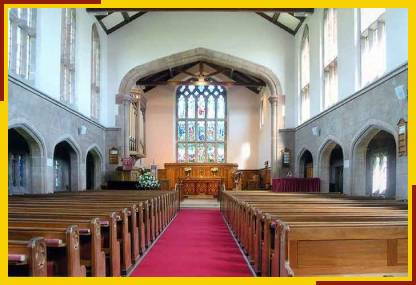 Holy Trinity & St Silas with Immanuel
Chapel of St. Silvanus, Milwaukee, Wisconsin
In 1841, under the direction of Bishop Jackson Kemper, three newly ordained deacons journeyed west and founded Nashotah House as a mission to the American frontier. The following year, a seminary opened with three students. These modest beginnings are witnessed today in the original Red Chapel where the early seminary community worshiped, nestled along the shore of Upper Nashotah Lake.
In 1847, Nashotah House received its formal charter from the Wisconsin territorial legislature as a college of "piety and learning." From its humble inception, the mission of the House, then, as now, is to prepare men and women to proclaim boldly and clearly the Gospel of Jesus Christ.
Chapel is at the heart of the community, and, as a seminary of longstanding tradition, we are dedicated to the Anglican heritage of daily prayer and worship. Every day begins and ends in the Chapel with daily offices of Morning and Evening Prayer as well as the celebration of the Holy Eucharist.
In a small, closely knit community of intentional prayer, Nashotah House instills traditional values and a commitment to spreading the Word of God. Mission takes form in education and outreach, creating new experiences and opportunities in the communities and parishes Nashotah House serves. Here, a focus on mission instills a passion for ministry to make a difference in the world.
This difference is achieved by the men and women who have been trained at Nashotah House to articulate the Gospel with intelligence and clarity. They foster the growth of the Church and nurture God's people in the saving graces of Jesus Christ.
| | |
| --- | --- |
| | Chapel of St Silvanus - the Red Chapel |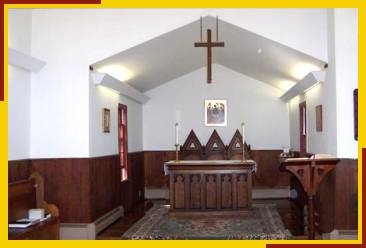 Interior of Chapel of St Silvanus
The Chapel of St. Silvanus, also affectionately known as the Red Chapel. It is the first chapel of Nashotah House and was built shortly after the seminary was founded in 1842. It was the built by three Episcopalians who now have Saints days in the Episcopal Church, Bishop Jackson Kemper, James Lloyd Breck, and James DeKoven. It is home to Sunday evening worship services at
Nashotah House, which is an Anglo-Catholic seminary located just east of Milwaukee, WI.
St. Silas, Woodlands, Glasgow
The church is situated in Park Road, Glasgow, G4 9JE
The architect was John Honeyman and the church was completed in 1864. If anyone has any information about this church please contact me contact@saintsilas.org.uk
Vicar from 1978-88 was Revd Michael Evans who was previously Curate in Maidenhead.
Does anyone know the location of this St Silas church?
Please email:- john@saintsilas.org.uk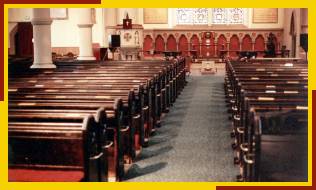 East end

East end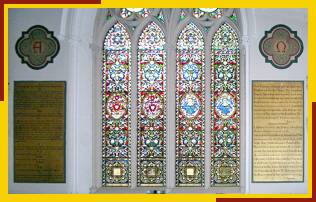 Decalogue & Credo in Sanctuary
St Silas Mission Church, Farfield Street, Bradford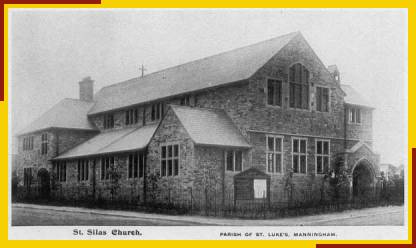 St Silas Church in the parish of St Luke Manningham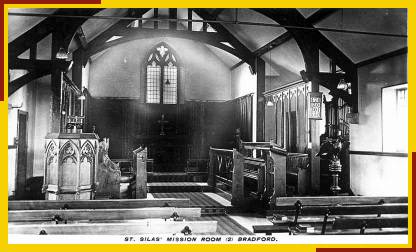 St Silas Mission Church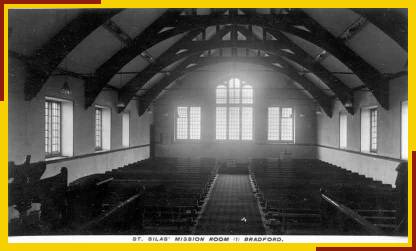 St Silas Mission Church
St Silas Mission Church, Farfield Street, Manningham was founded in 1912 but closed in 1958. This is in an area now known as Heaton.
The Silk Street Mission & St Silas Mission Church
I have been able to ascertain that the Silk Street Mission was started in a dilapidated workshop behind the Manningham Mills in 1905 to 1907 when its services and meetings were conducted by Captain Herbert of the Church Army. He was followed by Captain Harrison, who was later ordained. He was supported by an enthusiastic and voluntary band of workers who ungrudgingly gave their time and help. Beside the Sunday Evening Service there was thriving Sunday School, Band of Hope, a Young Men's Guild, a Literary and Debating Society and a Men's Bible Class.
However, in 1912 the Church authorities were given notice that the owner intended to sell the property. The mission, by this time had outgrown its facilities and early in 1912 the Vicar and Churchwardens decided to build a Mission Church and Sunday School and so the St Silas Mission was born.
It was reported that the population behind Manningham Mills was 5,000 and likely to double and were described as largely out of touch with the Church.
A site was purchased in Farfield Street and the building designed by Messrs. T.H. & F. Healey. The foundation stone was laid in October 1912 by Mr. A.T. Parkinson.
The Church was opened by Dr. Mossop on June 30th 1913 and dedicated by Archdeacon Kilner and the Revd. J.T. Woods (Vicar of Bradford). The church was dedicated to St Silas in keeping with the names of other local church (St Paul, St Luke, St Mark and St Barnabas).
In 1928 a stained glass west window was installed to the memory of Mr J.E. Batty.
The regular services of Sunday Evensong and monthly Holy Communion continued until December 1938. Services ceased in 1939 at St Silas with the onset of Workd War II and the church was taken over by the A.R.P (Air Raid Precautions). In the later part of the war the YMCA/YWCA ran youth clubs in the church. Evening services were resumed for a short while in 1947 but were discontinued as there was no curate in the parish.
In the 1950's the church was virtually derelict. St Silas closed in 1958 and on February 21st 1958 it was sold to the Ukrainian Catholic Church of Great Britain.
Later it became a warehouse as a storage place for beds and carpets before being bought and used as the Italian social club.
It is now known as Heaton Community Centre and can be found on Farfield St, off Scotchman Rd, BD9.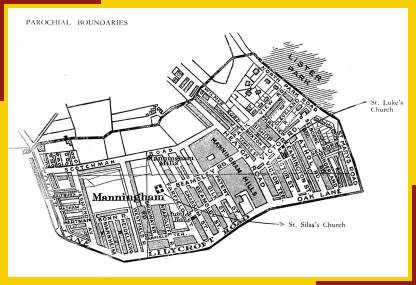 Map of Manningham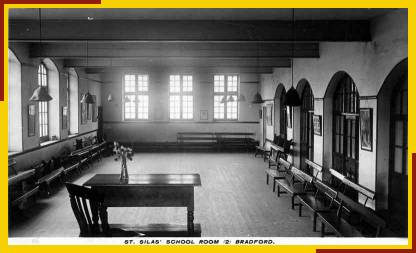 St Silas School Room
St Luke, Victor Road, Manningham was founded in 1880-81 and I suspect became St Luke with St Silas when the St Silas Mission Church closed. However, the addition of St Silas to the dedication seems a bit tenuous as I have not been able to verify this. It closed in 1984 but was bought by the "Church of God of Prophesy" (a Pentecostal Church).
St Silas Mission Church, Monmore Green, Wolverhampton
Opened 1897 in the parish of St Matthew, Wolverhampton
The register of St Silas Mission Church, commences in 1901. The original registers for the period 1901-1938 (Baptisms) are deposited at Staffordshire Record Office. Wolverhampton Archives holds microfilm of the deposited registers.
If anyone has any pictures or any information about St Silas Mission Church, Monmore Green I would be delighted to hear from you.
Please contact me at:- john@saintsilas.org.uk
St. Silas Church, Wolverhampton, WV2 4DT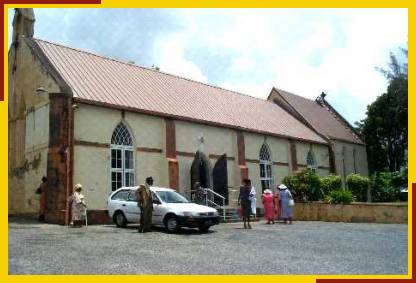 St Silas, Anglican Diocese of Barbados
Consecrated December 27th 1849.
The Barbados Church Army, the evangelistic arm of the Anglican Church in Barbados was introduced to Barbados in 1897 with the first batallion reported to be at the St. Silas Chapel in St. James. However, it was not officially recognised as having an existence until the Bishop's Charge in 1931, when Bishop Bentley endeavoured to give it a proper organisation and constitution.
His Lordship the Bishop of Barbados, The Rt. Rev. Dr. John Holder, is the Patron of the Church Army and its Chaplain is Rev. Michael Maxwell, rector at the Church of St. Jude.
St Aidan & St Silas, Coronation Square, Cheltenham
| | |
| --- | --- |
| St Aidan & St Silas, Coronation Square, Cheltenham | St Aidan & St Silas, Coronation Square, Cheltenham |
Saint Silas Church, Kentish Town, London, NW5. For all enquiries please email:
contact@saintsilas.org.uk
Powered by the
Clark Web Development Ltd
Website Church Engine